Premium Safe Foam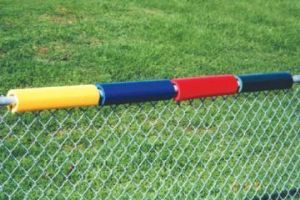 FREE SHIPPING ON ALL PREMIUM SAFE FOAM
Safe Foam adds padded protection to any pole or rail of 2-1/8" in diameter or less, as well as across your chain link fence. The padding of the premium Safe Foam wall is 3/4" thick.
Minimum order of 6pcs.
Durable Coating to Prevent Wear
Solid 8' lengths
Pre-slit for easy installation
Easy to cut to lengths or miter corners
You can choose from yellow, royal blue, red, or green
Matching tie wraps available
5 Year Warranty
Mon - Fri / 8:00 - 5:00 cst
Working Days/Hours!
Free Shipping
On ALL Products
sales@baseballbattingcages.com
Orders Support!