ENJOY REDUCED SHIPPING ON ALL DELUXE HOMEPLATE MATS

Save wear and tear on your home plate or create a realistic setting for batting practice in batting cages. Constructed and designed for a softer, more realistic feel, this model balances price and features for a good allaroundmat.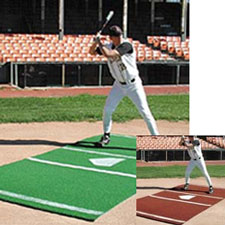 Tufted batter's box lines
Painted home plate
Constructed of durable, spike resistant, foam backed nylon turf
Stands up to heavy usage indoors or outdoors
Use them over dirt or a hard surface
Requires no gluing or tie-down
Pick them up when practice is over
Mon - Fri / 8:00 - 5:00
Working Days/Hours!
Free Shipping
On Select Products
sales@baseballbattingcages.com
Orders Support!